Homogenizer Machine Is Used to Reduce the Particle Size of the Milk for Making Ice Cream.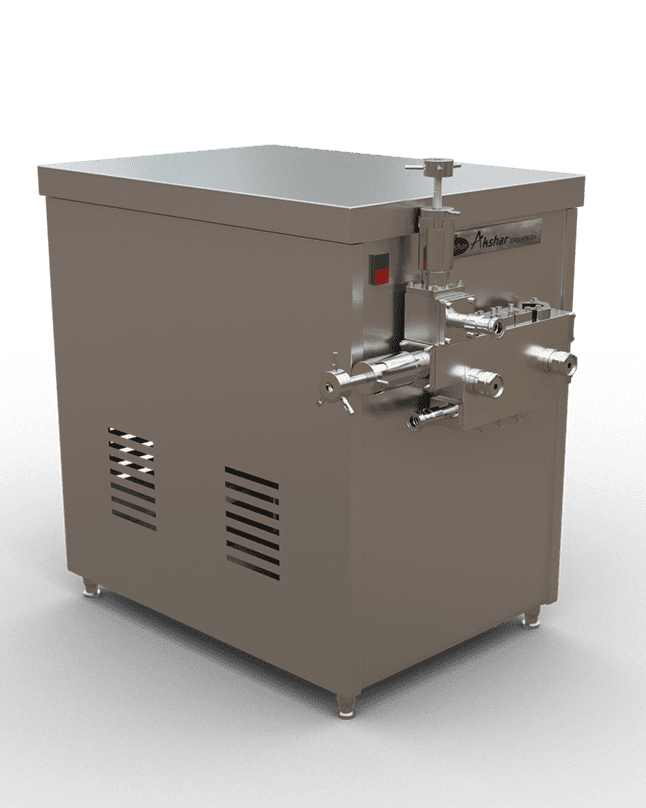 Homogenizer Machine Is Used To Reduce The Particle Size Of The Milk For Making Ice Cream. If We Make Raw Milk Left To Stand The Fat Will Increase And Make A Cream Layer On Milk. The Homogenizer Passes The Milk With High Pressure Thorough Particle Surface Area. There Are Two Stages To Minimize Or Reduce The Milk Particle Though Piston Pump. The Pump Is Operated By Electric Motor. Milk Homogenizer Is Essential For Emulsifying One Liquid Into Another OR Uniformly Dispersing Solid Particles Throughout A Liquid To Improve Consistency, Stability, Shelf Life, Flavor And A Host Of Other Important Product Qualities Such As:
Dairy & Ice Cream Industry
Pharmaceutical, Cosmetic, Chemical Industries.
High Pressure Homogeniser:
Milk, Evaporated Milk, Body Foods, Condensed Milk, Cream Cheese, Sterillised Milk, Recom bined Dairy Products, Chocolate Milk, Flavoured Milk, Sterilised Cream, Yoghurt.
Beverage Emulsion, Flavour Emulsion, Tomato Products, Syrups, Juices, Purees & Pastes, Chocolate products, Colours Essentiel, Oil Emulsions, Fruit Pulps, Honey, Margarine, Sauces, Yeast, Vegetable oils, Puddings.
Pharmaceutical & Chemical Industries
Adhesives, Antioxidants, Dyes, Liquid soaps, Ink Paint, Fuel Oil, Disinfectants, Wax emultsion etc. Antibiotics, Emulsions, Vitamins Enzyrnes, Gelatines, Ointments, Formulations.
Beauty creams, Nail enamels, Perfumes, Shampoo, Tooth paste etc.
3 fold Benefits of Akshar Industries Homogeniser
The R & D is based on continuous feedback from customers. The continuos effort of R & D make the homogenisers most economical quality.
The homogensiers incorporate advanced features & match international standards, Energy efficient valve designs.
The after sales service is the best in the industry. The prompt service ensures that production down time is minimal at customers an by providing spares off the shelf.
| | | | | |
| --- | --- | --- | --- | --- |
| Model | H-200 | H-300 | H-500 | H-1000 |
| Capacity, l/hr* | 200 | 300 | 500 | 1000 |
| Motor (H.P) | 3 | 3 | 5 | 7.5 |
| Max working pressure (PSI) | 2800 | 2800 | 3000 | 3500 |
| No. of piston | 3 | 3 | 3 | 3 |
| Operation | Manual | Manual | Manual | Manual |
Note :- The above capacities are based on water. Flow may vary as per viscosity of the product. Designed pressure for standard models upto 2800 PSI.
Are you interested in Homogenizer?
TO KNOW MORE ABOUT OUR PRODUCTS
Our worldwide presence ensures the timeliness, cost efficiency and compliance